Zonta's 25th Annual ABC 5K on November 4th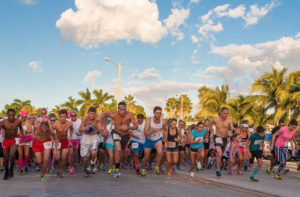 Come on down to Salute on the Beach! to run, walk or just have fun during the Zonta Club of Key West's 25th Annual ABC 5K Walk/Run. The race starts at 8:00 AM on Saturday, November 4th at Salute Restaurant on Higgs Beach, with registration beginning at 7:00 AM.
The ABC 5K raises money to cover mammograms, thin-prep pap tests, and other diagnostic and preventive measures for women in the Lower Keys who otherwise cannot afford them. Zonta has been able to provide over 3,000 mammograms to local women over the past 24 years and has never turned any woman in need away.
"This is the 25th anniversary of ABC and this year we expect even greater need for women's health funds due to the financial hardships many woman and their families now face due to Hurricane Irma.", said Mechelle Burgohy, President of the Zonta Club of Key West.
Theme Runs is assisting in managing the 5K race and prizes will be awarded for the best female and male runners and walkers in age categories. Teams of participants who raise funds with their own race sponsors also receive awards. Live music provided by the Parrot Heads adds to the festivities on race day.
"The Parrot Heads Meeting of the Minds contributes to our community and partners with Zonta for this annual event," says ABC 5K Committee Chair, Nicole Belles. Numerous local businesses, professionals and organizations also contribute as sponsors of the ABC 5K Race. Tickets for a chance drawing in January for terrific prizes including a one week stay in Ocean City, New Jersey and jewelry donated by Emeralds International and Little Switzerland which will be drawn will be sold.
Given Irma's impact on our community we would really like your support to keep up this important community program in these challenging times. Hope to see you there!