Radio Day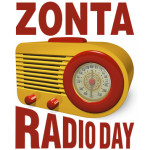 The 35th Annual Zonta Radio Day held on April 28th raised over $16,000 to support seven Zonta scholarships for Key West High girls and a local woman and to provide 80 free comprehensive blood screenings to local women during its Heart Health Initiative next spring.
A live remote broadcast at the Bottlecap Blue Room by radio personality Courtney Cruise on WEOW 92.7 showcased pre-recorded radio spots by local businesses that support the Club's mission. The event featured an outdoor block party with grilled hamburgers and hotdogs contributed by Centennial Bank and music by Total Recall; a fabulous silent auction; celebrity bartenders; and a Reverse Chance Drawing awarding $4,500 for the final ticket drawn to Walt Davis.   Six additional $100 prizes were also awarded to ticket holders during the draw down.
The Club wishes to thank our many sponsors, radio ad purchasers and silent auction donors.   Thanks to all of you and members of the community that attended and supported the event, we can continue to provide scholarships and blood screenings to women and girls this coming year.
Sponsors
AT&T
Barack Pensions, LLC
Body Wisdom Yoga, LLC
Centennial Bank
Florida Department of Health in Monroe County
Amy Heavilin, CPA
Key Lime Pie Bakery & Coconut Factory
Ginger King, Realtor
Mammography of Key West
Old Town Dental Pier House Resort & Spa
WEOW 92.7 and Florida Keys Media
Silent Auction Donors and Radio Ad Purchasers
 @ Home in Key West
Alan S. Maltz Gallery
Andy Griffiths Charters
Art Warehouse
Azur Restaurant
Bagatelle Key West
Bee Brothers Construction
Besame Mucho
Better Than Sex
Blue Heaven
Café Sole
Camille's Restaurant
CellphieLife PIX
Cloud Nine Petit Spa
CNC Medical Training
Danger Charters
Dragonfly
DRN Moving
D'Vine Wine Gallery
Emeralds International
Linda Ladd Fife
First State Bank
Fishmonster Florida Keys
Flamingo Crossing
Frenchie's Café
Fury Water Adventures
Goldman's Deli
Gourmet Nibbles & Baskets
Grand Vin Wine Bar
Green Pineapple Wellness Center
Harpoon Harry's
Health Insights by Kenzie King
Historic Tours of America
Isle Cook Key West
Isle Style Salon/Spa/Boutique
Jeff's Gems & Nautical Designs
Kelly's Caribbean Bar, Grill & Brewery
Key Plaza Creperie
Key West Bait & Tackle
Key West Local Luxe
Key West Marriott Beachside Hotel
Jamie Laino, Stylist
La Rubia Key West
La Trattoria Restaurant
Lilly Pulitzer
Litchfield Salon
Little Pearl
Local Color
Lucy's Retired Surfers Bar & Restaurant
Mangoes Key West
Mangrove Mama's
Dan Metzler
Mix Mercantile Boutique
Murray Marine
Nail Bar & Lounge
Nailtini
Ocean Grill & Bar
Old Island T-Shirts
Old Town Wine & Spirits
Oropeza & Parks, CPAs
Paradise Day Spa
Pepe's Café and Steak House
Poco Pelo Chic
Porter Allen Insurance
Pribramsky & Company, CPAs
Raymond James
Ruth Reiter
Sandie Rojas, Reflexology
Royal Furniture and Design
Salty Dog Key West
Salute on the Beach
Seven Fish
Shots and Giggles
Southernmost Beach Café
Southernmost Foot & Ankle
Renee Spencer, Tranquility Spa
Square Grouper
Chrissy Stites, Licensed Massage Therapist
Sugar Apple Organic Café and Market
Sugarloaf Pizza
Summerland Wines & Spirits
Sunshine Grill
Surfside Aluminum
Tavern N Town
The Café
The Grand Café
The Key West Butterfly & Nature Conservatory
The Stoned Crab Restaurant
Three Fine Cooks to Geaux
TLC – The Lighting & Landscape Co.
Tropic Cinema
UVA Key West
Vignette for Women
Wanderlust Boutique & Gallery
Willis/Blackwell, CPAs
Womankind
Zuelch & Zuelch Accounting
Special Thanks
The Blue Room at the Bottlecap Lounge and their wonderful staff
Rick Lopez and Courtney Cruise of WEOW 92.7
Betty Rubenstein & Ruth Reiter, silent auction "fluffers" extraordinaire
Esther Tupino and the terrific Centennial Bank staff
Our fabulous celebrity bartenders—Nancy & Flower of Headlines, Dr. Mark Whiteside and Daniel Courtney
Peter Arnow, our marvelous photographer
Denise Rohrer of Oropeza & Parks
The soulful tunes of Commissioner Clayton Lopez and Total Recall
Chico's Cantina
Grand Key Doubletree Resort
Curry & Sons Printing
Waste Management
Everyone that attended the event to support our Zonta community service projects!
Thank You!
A COPY OF THE OFFICIAL REGISTRATION AND FINANCIAL INFORMATION MAY BE OBTAINED FROM THE FLORIDA DIVISION OF CONSUMER SERVICES BY CALLING TOLL-FREE 1-800 HELP-FLA (435-7352) OR BY VISITING www.FloridaConsumerHelp.com . REGISTRATION DOES NOT IMPLY ENDORSEMENT, APPROVAL OF RECOMMENDATION BY THE STATE. The Zonta Foundation of Key West is tax-exempt and a not-for-profit 501(c)3 Charitable Organization #65-1007404.